Debate Team earns accolades
Wed, 10/06/2021 - 3:17pm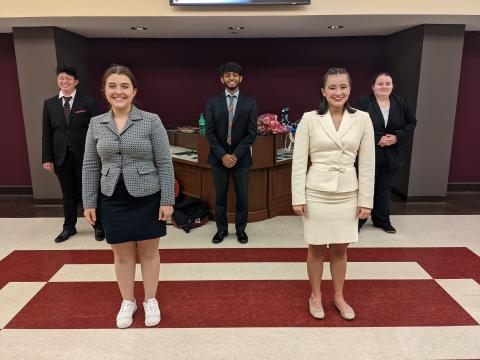 UL Debate Team (left to right): Andrew Kern, Annie Cramer, Ayush Deshpande, Abby Fontenot, and Gabby Clewis. Director of forensics: Dr. Charles Womelsdorf (not pictured)


The UL Lafayette Speech and Debate Team placed 4th overall in the recent Hill Country Swing tournament, co-hosted by University of Texas at Austin and Texas State University on September 19 and 20. University of Alabama took 1st place. This competition marked the team's first of this academic year.
The team also displayed strong individual performances in several categories.
· Abby Fontenot: placed 2nd in Dramatic Interpretation, 3rd in Program Oral Interpretation, 6th in Impromptu Speaking, and 7th in Prose Interpretation
· Andrew Kern: placed 3rd in Poetry Interpretation and 2nd in Program Oral Interpretation
· Gabby Clewis: placed 4th in After Dinner Speaking
· Ayush Deshpande: 4th in Persuasive Speaking and 5th in Extemporaneous Speaking.
This performance was especially impressive as Kern, Deshpande, and Cramer are all first-year competitors.
"For the first time since I've been here, we have real diversity in skillsets and talents, which, along with a positive team culture, is the real goal of any competitive team activity" says Director of Forensics, Charles Womelsdorf, Ph.D. "We finally have a more complete coaching staff with graduate assistants who know the activity well, and dedicated alumnae. It's time for us to start leveling up."
The team is currently preparing for upcoming competitions. These tournaments include: "Virginia is for Lovers" cohosted by George Mason University and James Madison University and "Dr. Frank Thomson Jr. Crimson Classic" hosted by The University of Alabama.